In our continued quest to profile authors of forthcoming 33 1/3 titles here on the blog–so you can get to know them, their writing, and what kind of twisted soul chooses to think about just one album for months at a time–we bring you celebrated Scottish author Alan Warner, author of our forthcoming 33 1/3 on Can's Tago Mago.
Alan Warner is the author of six novels: the acclaimed Morvern Callar (1995), winner of a Somerset Maugham Award; These Demented Lands (1997), winner of the Encore Award; The Sopranos (1998), winner of the Saltire Society Scottish Book of the Year Award; The Man Who Walks (2002), an imaginative and surreal black comedy; The Worms Can Carry Me to Heaven (2006), and The Stars in the Bright Sky (2010), a sequel to The Sopranos. Morvern Callar has been adapted as a film, and The Sopranos is to follow shortly. His short story 'After the Vision' was included in the anthology Children of Albion Rovers (1997) and 'Bitter Salvage' was included in Disco Biscuits (1997). In 2003 he was nominated by Granta magazine as one of twenty 'Best of Young British Novelists'. In 2010, his novel The Stars in the Bright Sky was included in the longlist for the Man Booker Prize. In 2013, he was awarded the James Tait Black Memorial Prize for his novel The Deadman's Pedal.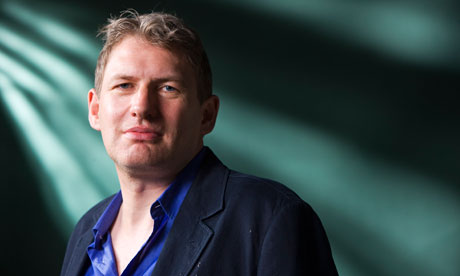 What, in particular, drew you to writing about this album?
AW: Ally Jane Grossan, your great editor, asked me to write about Tago Mago. It has become sort of known that I am a Can fan. Perhaps a bit too well known, as I am mad about all kinds of other music and albums. In my own way I could have written about PiL's Metal Box or James Blood Ulmer's band, The Music Revelation Ensemble–who in 1988 made what I think is one of the great jazz albums of all time, titled Music Revelation Ensemble…the one with 'Body Talk' as track 1.
I could have written about Jack Bruce who I adore, or Miles Davis or Peter Hammill, or Prince, or The Damned or Weather Report. Or Can bass player Holger Czukay's album Movies which is a drop dead masterpiece. I could have written about Hawkwind's Space Ritual. Or I could have written about The Au Pairs and 80s feminism. I like this fellow James Blake too, he's remarkable; he's making this sort of Palestrina-like electronic music which sounds sacred. Or there's the amazing RammEllZee, the rapper and artist (R.I.P.) who I really would like to write a long essay about. Then again, I would like to write about Terence Trent D'Arby albums; he is very unfashionable today but still makes good music. Maybe I could even have written about Jeff Beck. If you paid me a lot, I would even write about early Peter Frampton albums! I like Ravel, Bartok, Berio and Stravinsky very much too etc etc etc.
Or at least I flatter myself into thinking I could write about all these great things. Perhaps I could not? It is very different for me writing non-fiction compared to novels. Just because I love all this music it doesn't really mean I have anything valid to write about it in a pleasing style. It is very easy to listen to an album but a lot harder to write about one.
Who did you be reach out to during the writing process? Why?
AW: I reached out to The Lord. I prayed for his help. Ha ha.
Describe for us the process of coming up with and pitching your 33 1/3. Did anything surprise you? Did you start with one idea and end up with another?
AW: The scallops surprised me! Ally Jane was in Edinburgh so we just met for a delicious lunch. I am yours for a nice, wine-lashed lunch and she sort of suggested to me I write about Tago Mago in the series. I was flattered. I think Ally Jane had haggis!
What I love about the series is the freedom you are given as a writer to write about an album in any way you wish. That puts a big pressure on you but it also takes a lot of pressures off. It is an individualistic response and it is respected as such. I am not a musicologist – I don't even think of myself as an intellectual. I'm just a dumb novelist. If I had been asked to write a scholarly, learned response to Tago Mago I don't feel I would have been able to. I tried to be honest – almost just on an emotional level, to structure the period and spell out what the album meant to me in my time and place as a kid in 1979/80. And I still love to listen to it. We are all too shy about what music makes us FEEL.
I do notice I took a very novelistic approach. I sort of created an unreliable narrator: ME, at age 15 and I just spun out my lack of comprehension of the world around me and all its wonders. I hope any readers will forgive me. In a way it is not a book for CAN fanatics, it's just a very personal memoir. It is odd to me, since some Can members are my friends, and while I did talk to them for the book, I knew the book would not be and could not be about them at all. It had to be about how Tago Mago impacted me as a kid. Of course, if I had years and the financing I would like to talk in huge detail with my heroes. But I am always scared of boring them with my questions. You know? "Holger, what type of bass strings did you use in 1975?" I do try to sneak those fan questions in, but Holger and I are more likely to talk about how we can capture The Loch Ness Monster.
"I am not a musicologist – I don't even think of myself as an intellectual. I'm just a dumb novelist. If I had been asked to write a scholarly, learned response to Tago Mago I don't feel I would have been able to."
What do you want to explore about this band/singer/artist that you feel hasn't been adequately covered elsewhere in music criticism or academic writing?
AW: Well I am not sure I would make any such great claims for myself. As a doubtless self-obsessed novelist, what was important for me was some sort of honest personal response to what actually happened in my youth around that period of discovering Can. When I was also discovering other stuff, like books.And Weather Report. And Teresa. You can write that in English: "I discovered the music of Can," but what does that actually mean for a young individual? It actually can be devastatingly powerful thing. It still is, when a bit of art hits you right between the eyes. A myriad of complications and subtleties and self delusions too, are contained in "discovering" music. Often those subtleties are dimmed by cliché responses and egg-head posturing. In the book, I had to more or less explain the whole musical culture of the place I grew up in and which I was immersed in. Otherwise the enormity and uniqueness of what the album was and what it meant to me is lost. And I am not sure if I captured the full effect of it. So I had to paint the CONTEXT of the listening, and I do believe that is often what is missing from some criticism and academic writing.
These days a hip kid can click a download and have Tago Mago in minutes. I wanted to sort of show the slow, laborious, physical process of what it was like to buy vinyl records in a small, isolated Scottish town in the late 70s and early 80s. It must have been quite similar in small US towns in those years before MTV. And of course we knew nothing else – to us that was normality. It will probably bore the pants off people. But I had to be honest about what it was like for me. That's all I had to offer as a writer – an honest response to a youthful aesthetic experience.
What 33 1/3s have you read? Which are your favourites? Why?
AW: I am afraid I haven't had as much time to read as many as I would wish. I had to write the Tago Mago book while finishing off my new novel. I did manage–and I liked–the highly intelligent response Jonathan Lethem wrote about Talking Heads' Fear of Music. I admired the totally original approach Joe Pernice took to writing about Meat Is Murder by The Smiths.
I am deeply looking forward to reading a wee library of 33 1/3s this summer: The Piper At the Gates of Dawn by John Cavanagh, Electric Ladyland by John Perry (a really great guitar player himself), Trout Mask Replica, by Kevin Courrier and Another Green World, by Geeta Dayal.
What was your first concert?
AW: I am quite proud of my first but not my second one. The sublime to the ridiculous. I lied to my parents when I was 15 that I was attending a school event and I took myself 200 miles to the Futurama rock festival in Leeds where I slept on the concrete floors for two night and was adopted by these biker girls who thought I was cute, so they looked after me (eg: lager and hamburgers). Great line up: Public Image Limited, Joy Division, (who sounded like a good heavy metal band), Hawkwind (the only band the bikers had come to see), The Fall, Echo and the Bunnymen, The Only Ones (with Mr John Perry on guitar!). I seem to remember Killing Joke being there but have since noted they were not on the billing? But I was rather wiped out on lack of sleep and lager. It was really Public Image Ltd who I went to see as I was such a huge fan and the other bands were a fascinating bonus. It lasted 3 days but I slunked home exhausted early on the third day. My 2nd gig was Ozzy Osbourne and his Blizzard of Oz, in Glasgow, October(?) 1980. Ozzy was in his spaghetti jump suit and kept going off stage for 'a glass of water.' All my mates were big Sabbath fans. We even got to meet Ozzy at Virgin Records earlier that day when he signed my Penguin Classic and told us to nick a copy of his album.
How do you listen to your music at home: vinyl, CD, or MP3? Why?
AW: I am that pathetic age where I am not very sure what an MP3 is. I listen to vinyl, CDs and my ipod set to shuffle on a Bose base. I have a good high end turntable and I listen to my vinyl on that. I don't buy new albums on vinyl though, just second hand stuff. I love second hand record stores.
Hands down, vinyl sounds best and I love the album sleeves, but you do seem to have to get up and turn the album over so quickly. Music seems to have elongated as a temporal experience though the length of tracks have got shorter.
Name a lyric from the album you're writing about that encapsulates either a) the album itself, b) your experience in hearing the album for the first time, or c) your experience writing about the album, so far.
AW: Well the irony here is that Damo Suzuki, the singer on Tago Mago, sings in a very odd style so that his lyrics are extremely hard to decipher. There were no lyric sheets included with Can! It would be like translating the Dead Sea Scrolls. Almost every lyric of his which you quote turns out to be a misinterpretation. That's the joy of Damo as a singer, the vocals express nothing other than their own existence. At one point he seems to sing, "Hey Mr recording station man," referring to the very process itself, which should serve as a motto to all we music nerds.
Guess what? Can have just come on my Ipod shuffle ! It's magic.
Can's Tago Mago by Alan Warner is forthcoming this November in the US, and in January 2015 in the UK and elsewhere.